Education Guru is please to advise that they have extended the Best Scholarship offer for Professional Year in Brisbane upto 30th June 2017.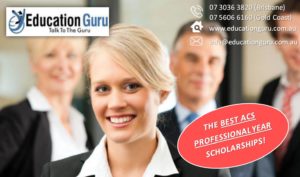 Best of all to qualify for the Professional Year Scholarships there are no Hurdles or Catches or Fine Print. All you need to do is book your seat before the 30th June 2017.
Scholarship for all students – $2250 (Navitas and Indus Institute)
Referral Reward for your mates – $500 per student.
So not only you can get a Scholarship of $2250 on your Tuition Fee but you can also get more discounts by referring your friends and family to Education Guru. You can refer as many friends there is no limit.
So call Education Guru Today on 0407 110 417 or 07 3036 3820 to secure your seat