COVID19 Special – $3000 Scholarship Professional Year
Tuesday, Wednesday, Saturday & Sunday Classes Now Available
Education Guru's $3000 Scholarship that they have recently launched in Brisbane Only, is proving to be a great hit with students quickly grabbing the Scholarship and reserving their seats.
As the scholarship has been launched by Education Guru in response to the COVID19 Crisis and aimed to assist all Students in Brisbane for Professional Year Programs, students must act quickly if they wish to take advantage of this scholarship.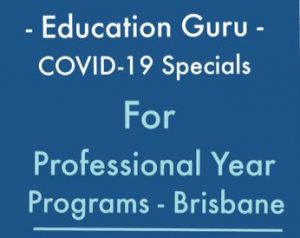 The other benefit of enrolling at the moment being that due to COVID19 the students can do all their classes online and even internship can be completed working from home (online). This saves the student the hassle and time of travelling to and from their study centre or workplaces. Plus it is cheaper and safer as you save on transport cost and minimise any health risk.
This scholarship has been launched in collaboration between Indus Institute & Education Guru.
Indus institute is a reputed provider of Professional Year Programs for last 5 years and Indus graduates have very good employment and graduate outcomes. The Program run by Indus is highly reputed and student feedback regarding this program has been very positive,  owing  to their  great facilities  excellent  trainers.
Call Education Guru today on 07 3036 3820 today to secure your place in the ACS Professional Year and Accounting Professional Year at Brisbane or email us at brisbane@educationguru.com.au.