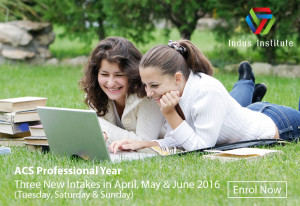 The ACS Professional Year a very popular program that assist students in improving their job ready skills. 

The ACS Professional Year consist of three broad courses
Australian Workplace Culture
Australian Business Communication
An ICT Internship & Professional Environments Course
All classes at Indus Institute are conducted in Corporate Boardrooms, thus giving students exposure to a real workplace environment. The students find this environment very useful and describe it as something that helps them to improve their self confidence greatly.
Indus Institute has two new intakes of the ACS Professional Year Program in Brisbane commencing on 11th June 2016 and 21st June 2016.
Australian Computer Society has advised that the Course Fees for ACS Professional Year will increase to 12, 930 with effect from 1st July 2016, so if students want to take advantage of the current fees they should act now and book their place in the June 2016 intake.
So if you are looking for a high quality ACS professional Year Program, which is conducted in Business Class facilities, then please talk to our team of qualified Education Counselors today to secure their seat in the Indus Institute ACS Professional Year in one of the upcoming intakes.
For more information please call 07 3036 3820 or
Email us on info@educationguru.com.au or
Contact us via our facebook page https://www.facebook.com/EducationGuru/