Dear Students, Winter is here as the 1st June marks the official start of winter.
During this Winter if you are looking to study in corporate style high end facilities then chose the Indus Institutes ACS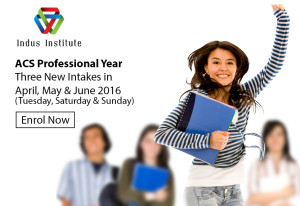 professional Year Program
Indus Institute has two new intakes of the ACS Professional Year Program in Brisbane commencing on 11th June 2016 and 21st June 2016.
Indus Institute ACS Professional Year students gain great work ready skills and exception work experience opportunities as part of their program. All the trainers at Indus Institute are high quality industry professionals who are carefully selected to ensure that the program quality and integrity is maintained to its highest levels.
Students who are completing modules in May 2016 have already been lined up with some exciting internships with big companies and government organisations by Indus Institute.
So if you are looking for a high quality ACS professional Year Program, which is conducted in Business Class facilities, then please talk to our team of qualified Education Counselors today to secure their seat in the Indus Institute ACS Professional Year in one of the upcoming intakes.
For more information please call 07 3036 3820 or
Email us on info@educationguru.com.au or
Contact us via our facebook page https://www.facebook.com/EducationGuru/